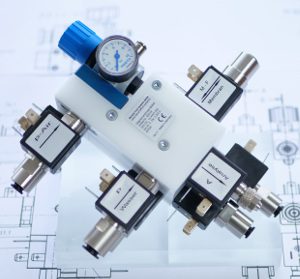 Our valve manifolds offer the possibility to realize complex fluidic and electrical circuits in a very small space. In addition, the number of components and connections is reduced, which reduces sources of error during assembly at our customers.
Your Advantages:
Development and implementation are carried out by one company.

Production as well as functional and leak testing of the entire fluidic and electrical circuitry is carried out in our company.

simple assembly at the customer's site

Savings in assembly time and costs

Reduction of installation space

low maintenance costs

Competitive advantages through exclusive customized solutions
We develop and manufacture individual assemblies for our customers that combine valves, pumps, sensors and, if necessary, electronics. Depending on the application, simple or complex fluidic switching processes will be realised. The development is carried out in close cooperation with our customers, whereby we implement the project from conception, construction with 3D-CAD modelling, design with numerical simulations, selection of materials, sample production and testing on our test and inspection benches up to maturity phase.
Your advantages:
We develop, test and implement fluidic system solutions together with our customers.
Competitive advantages through exclusive customized solutions