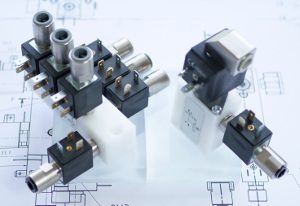 Application: Flow controlled by a solenoid valve block in dispensing equipment
The tapping of beer, lemonade, cola, etc. takes place today with so-called dispensing equipment. These are usually electronically controlled to precisely control the dispensing quantity of the beverage.
Electronically controlled BFS solenoid valves combined in one valve block are used here for accurate tap control. Rinses and even internal cooling are also controlled via BFS valves.
Compared to competing products, our valves allow self-cleaning during operation due the designed freedom of dead space and our fluid gap seal. This also results in a significantly reduced cleaning effort during downtime while maintenance of the dispensing devices. Especially for liquid foods, this property is of crucial importance. The design-related optimized flow guidance (with fewer valve-internal deflections) is an essential prerequisite for the required minimization of the CO2 loss when tapping carbon dioxide-containing beverages.
In addition, with our customized solenoid valve blocks we achieve very reduced installation volumes and minimized tube lengths – and thus minimized heating of the drinks.